Is PTSD a Disability?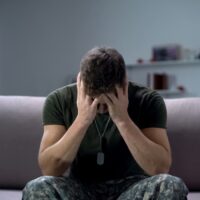 The growing consensus in the medical field is unequivocal: Mental health is physical health. Having poor mental health can be just as debilitating, and just as dangerous, as having a physical ailment. Unfortunately, demonstrating a mental illness for insurance coverage and other medical benefits can be more difficult than proving a physical injury. Not all mental health conditions qualify as a disability in the eyes of the Social Security Administration or private insurance companies. Proving that a condition such as post-traumatic stress disorder (PTSD) should qualify as disabling takes extra steps, and if your claim for coverage has been denied, you'll likely need the help of a qualified California disability insurance attorney.
PTSD Can Inhibit Your Ability to Work
PTSD is a psychiatric disorder that can arise as a result of a traumatic or violent event. PTSD is common among military combat veterans and people who have been involved in other traumatic events such as car accidents, sexual assault, childhood abuse, or natural disasters. PTSD can carry a number of symptoms, including disturbing and intrusive thoughts, flashbacks to the event, detachment, trouble sleeping, irritability and other mood changes, negative emotions like guilt, anxiety, fear, guilt, and shame, loss of interest in activities, and extreme reactions to normal stimuli like physical touch.
If these symptoms present in a serious fashion, they can inhibit a person's ability to work. Inability to perform daily activities, to focus, or to react in a normal fashion to everyday stimuli can be extremely debilitating and inhibit a person's ability to perform their job duties. By definition, if you have a health condition that prevents you from being able to work, you should qualify for disability benefits coverage.
Proving PTSD for Disability Insurance Benefits
Although PTSD can be debilitating, it can be difficult to prove for the purposes of obtaining disability benefits. Insurance companies take an approach that assumes people will fabricate mental health conditions in order to obtain benefits because they are harder to demonstrate objectively. As a result, insurance companies often set higher standards for proving mental health-related disability than they would employ for purely physical conditions. Often, insurance companies will deny disability based on PTSD by claiming there is a lack of "objective" medical evidence sufficient to prove the condition. They might also claim there is no objective basis for restrictions or limitations imposed by a physician, or that there is no link between the patient's PTSD and the restrictions imposed by their physician. Just because the insurance company says that there's a lack of sufficient evidence, however, does not make it so.
Many insurance policies do not require "objective" medical evidence of conditions like PTSD that are inherently difficult to prove with objective measurements. PTSD might not be provable through diagnostic measures such as CT scans and MRIs. Different policies have different language concerning psychological disorders. It's important to consider the language in the policy and ensure that the insurance company is not ignoring the limitations (or lack thereof) in their own policy.
Regardless, however, it helps to obtain as much supporting evidence as possible. Certainly, a diagnosis of PTSD from a licensed physician is necessary. Additional neuropsychological testing can provide supportive evidence as well, as can written statements from treating physicians along with personal statements explaining the debilitating effect of the patient's PTSD. Talk to an experienced insurance denial attorney or bad faith insurance lawyer if your claim for short-term disability (STD) or long-term disability (LTD) benefits has been unreasonably denied.
Seasoned Advice and Representation for LTD or STD Disability Insurance Claim Denials in California
If your disability insurance claim has been unreasonably denied, or if you are dealing with other bad faith insurance issues in California, fight for the coverage you are owed with the help of the experienced and trial-ready Los Angeles insurance claim denial lawyers at Gianelli & Morris. Call for a free consultation at 213-489-1600.