Doctors With Long-Term Disability Policies Face Extra Scrutiny From Insurance Companies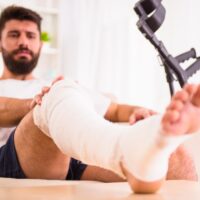 Disability insurance protects medical professionals in the event that injury or illness prevents them from continuing in their profession. Insurance companies, however, do not favor doctors over any professionals; if they can find a reason to deny long-term disability (LTD) or short-term disability (STD) benefits to physicians in order to protect their profit margin, they will do so. Continue reading for a discussion of some of the reasons why insurance companies deny STD and LTD insurance benefits to medical professionals. Speak with a knowledgeable Los Angeles disability benefits denial lawyer if you need assistance with a disability claim.
Defining "Disability"
One of the principal, and most frustrating, reasons given by insurance companies in denying disability benefits is that the covered party does not meet the definition of "disabled." Disability is not defined objectively under the law; instead, the definition of "disabled" is stated within the policy. Not all policies define disabled the same. Some are more restrictive while some are more permissive. For medical professionals, the different definitions are especially important.
At the most permissive end, a policy may define a beneficiary as "disabled" whenever they are unable to perform their medical specialty. For example, an eye surgeon may be disabled when their hands are severely injured and they cannot perform minute surgery. Policies may, however, define disabled as someone unable to practice their profession at all–meaning any medical specialty. The same ophthalmologist may be denied benefits on the grounds that they could still perform as a physician in another medical field, despite their injury.
In the worst case, a policy might define disabled as unable to work in any profession. A physician unable to act as a medical doctor but able to perform some other job, such as an administrative assistant, would not qualify as disabled. Always review your policy language carefully before purchasing your disability insurance to avoid such restrictive definitions.
Partially Disabled
Even if you have an "own specialty" policy, your insurance company might try to label you as only "partially disabled" to avoid paying full benefits before retirement age. If you become disabled prior to retirement, you could be owed lifetime benefits, and insurance companies will do everything they can to avoid paying lifetime benefits. If you believe you meet the definition of disabled and/or fully disabled, despite statements by your insurance carrier to the contrary, talk to a disability insurance attorney to learn how to challenge a policy decision.
Untimely Claims
Policies set time limits within which a beneficiary must file their claims in order to obtain benefits. Many medical professionals selflessly try to continue working after an injury to keep helping patients in need only to find that their insurance company penalizes them down the line for their altruism. If you have a reason to claim disability, it is important to do so in a timely manner, rather than putting it off.
Lack of Sufficient Medical Evidence
Insurance companies demand significant evidence of a disability before paying out benefits. Evidence likely includes detailed statements from the policyholder's treating physicians detailing how their injuries affect their daily life and ability to work. Your policy might demand specific evidence from certain types of physicians, such as a report from a neurologist. Insurance companies may also engage in bad faith practices by constantly demanding additional evidence that is not actually necessary but serves to delay payments and overly burden the policyholder stuck with trying to track down all of the documents requested.
Any contradictory evidence or information inconsistent with your disability diagnosis may be used against you. Insurance companies may go so far as to hire private investigators to follow claimants and look for evidence that they are not as disabled as they claim to be in order to deny benefits.
Get Talented and Trusted Help With Your California Disability Insurance Claim
If your disability insurance claim has been unreasonably denied, or if you are dealing with other bad faith insurance issues in California, fight for the coverage you are owed with the help of the experienced and effective Los Angeles insurance claim denial lawyers at Gianelli & Morris for a free consultation at 213-489-1600.