Insurers Facing Lawsuits over Denials of Microprocessor Prostheses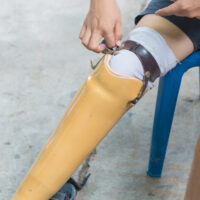 Losing a limb can change someone's life forever. While it may never be possible to regain full mobility or use of the limb that was lost, prosthetic technology has come a long way in developing prostheses that can respond to surface conditions in real time. Sadly, many patients who would benefit from these technologies have had their claims for more advanced prosthetics wrongly denied by their healthcare providers. Learn more about the wrongful denial of microprocessor prosthetic devices below, and speak with a California insurance bad faith attorney if you've been mistreated by your insurer.
Microprocessor prosthetics offer massive improvements over traditional devices
Every year, almost 185,000 Americans undergo a limb amputation. This means that about 500 amputations happen every day. While prosthetic replacements of amputated limbs were once basic plastic or metal devices, this is no longer the case. Microprocessor-enhanced prostheses, first developed and put into use about two decades ago, offer a solution to many of the shortcomings of traditional prostheses. A microprocessor prosthetic device comes with sensors and software that can sense the wearer's gait and environment, such as the type of terrain, the wearer's speed, or the elevation. The microprocessor can adjust how the prosthetic moves according to these inputs.
Traditional prosthetics tend to result in overcompensation in the hip, toe dragging, difficulty changing walking speed, and, most dangerously, increased likelihood of falls. Microprocessor prosthetics, on the other hand, have been shown to provide a 79% relative risk reduction in falls causing injury. They've also been shown to increase the wearer's stability on variable terrain and require less effort for the wearer to move. Since many amputees are older, a reduced fall risk can be a life-saving feature. Using a more stable prosthetic device can also make the wearer more likely to move more, leading to improved health as the result of getting regular exercise.
Health insurers denying claims despite obvious benefits of microprocessor devices
Health insurance providers have been reluctant to approve claims for microprocessor prosthetic devices, likely based on the high cost and need for regular maintenance that come with these devices. In at least one case, the reason offered to those whose claims are denied is that the device is not "medically necessary" for that patient. Anthem has been the most prominent target of lawsuits for denials of microprocessor prostheses, many of which challenge the criteria that Anthem uses to determine whether a patient deserves to receive a microprocessor prosthetic device. Anthem reportedly allows claims for microprocessor prosthetics only when the patient has a "documented need for daily long-distance ambulation (for example, greater than 400 yards) at variable rates," and that the patient has a "demonstrated need for regular ambulation on uneven terrain or regular use on stairs." This criteria clearly doesn't take into account the research showing that microprocessor prostheses make every wearer safer, not just those who have to walk or traverse variable terrain as part of their work. Often, the only way to change these unfair criteria for approval of devices is for patients who have had their claims wrongly denied to take legal action against health insurance providers themselves.
Get the Legal Help After Unfair Denial of Your Insurance Claim
If you believe you've had a health insurance claim wrongly denied, find out if you're a good candidate to file a lawsuit in California for insurance bad faith by contacting the dedicated and effective Los Angeles bad faith insurance lawyers at Gianelli & Morris for a consultation at 213-489-1600.