How Life Insurance Companies Deny a Claim Using Material Misrepresentation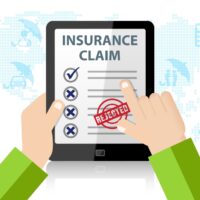 Life insurance companies will grasp at any reason they can find to deny a payout under one of their policies. If they can find a coverage exclusion, they will use it. If there is no exclusion, the insurance provider may utilize other strategies to avoid paying out on a claim, including by claiming that the policyholder made a "material misrepresentation" in their application materials. Read on to learn about how life insurance companies allege material misrepresentation in order to deny claims, and call a passionate and effective Los Angeles life insurance denial attorney for help with a California insurance claim.
Rescission vs. Claim Denial
When life insurance companies rely on allegations of material misrepresentations to deny a claim, they are generally not referring to the claim itself. (Although, they could claim that the beneficiaries of a policy misrepresented the cause of death, for example, in order to avoid an exclusion.) Life insurance providers are instead looking to the initial policy application and asserting that a material misrepresentation invalidates the entire policy.
If an insurance provider finds that the initial policy application contained a material falsehood, then they will claim that the policy should never have been issued in the first place. They will "rescind" the policy, meaning that they will refund any premiums paid and the parties will revert to the position they would have been in had the policy never been issued. Unlike a claim denial, which relies on the policy terms, a policy rescission invalidates the existence of the policy.
What is "Material Misrepresentation?"
When applying for life insurance policies, applicants must disclose a variety of information about their health, their family history, their income, their habits, and other things. If a policyholder lies about something significant–for example, if they fail to disclose that their family has a history of cancer, that they are a regular smoker, or that they have a known, underlying health condition–the insurer will claim that they were fraudulently induced into issuing the policy.
To serve as grounds for a policy rescission, the misrepresentation must be "material" or significant. Essentially, the insurance company must be able to say that they would not have issued the policy if they had known the truth. A mistake concerning nonessential details such as the policyholder's contact information should not be grounds for a policy rescission. Insurance providers certainly may try to rely on minor details or omissions to avoid paying out on a claim, but a savvy insurance denial attorney can help you prevent a provider from nitpicking its way into skipping out on the coverage you and your family paid for.
The Two-Year Contestability Period
California law sets a very specific time period for life insurance providers to deny a claim based on a rescission of the policy. If a policyholder dies more than two years after issuance or reinstatement of the policy, then the provider is not allowed to rescind the policy based on misrepresentations in the initial application, regardless of how material they may be. The provider must pay the claim or find some other reason based on the policy to deny the claim.
Note that the two-year period is triggered by either issuance or reinstatement of the policy. When you are "renewing" a policy, be careful about the precise language used. The insurance provider may rely on a renewal to restart the two-year contestability period. Consult with a knowledgeable life insurance attorney to ensure that your rights and benefits are protected.
Help Fighting Back Against a Life Insurance Claim Denial
If your life insurance claim has been unreasonably denied or your policy unjustly rescinded, or if you are dealing with other bad faith insurance issues in California, fight for the coverage you deserve with the help of the dedicated and professional Los Angeles insurance claim denial lawyers at Gianelli & Morris for a free consultation at 213-489-1600.