UnitedHealthcare Might Soon Start to Retroactively Reject ER Visits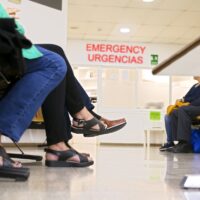 A few weeks ago, we took a deeper look into Anthem's policy on avoidable emergency room (ER) visits. Anthem had implemented a policy of denying coverage for ER visits that they decided were "avoidable" or "unnecessary," even if the patient at the time felt there was an emergency. It turns out that Anthem is not the only health insurance provider that is utilizing a deplorable "avoidable ER visit" policy. UnitedHealthcare recently announced that they would be issuing no coverage or limited coverage for emergency room/emergency department (ED) treatment that turned out to be "non-emergent." Whether a visit to the ED was emergency or non-emergent will, of course, be decided by the insurance company after the fact. This policy change was set to go into effect on July 1, 2021, but it may be delayed due to backlash. Read on to learn about UnitedHealthcare's new approach to ED visits, and reach out to a zealous Los Angeles health insurance benefits denial lawyer for assistance with a denied insurance claim in southern California.
UnitedHealthcare Announces Emergency Department Facility Changes to Existing Plans in "Most States"
UnitedHealthcare recently issued a provider brief addressing a change in its policies concerning coverage for emergency department facility commercial claims. According to the company, they will soon "enhance [their] capabilities" to "assess emergency department (ED) facility commercial claims to determine if the ED event was emergent or non-emergent, according to existing plan provisions, in most states." If UnitedHealthcare decides that the event leading to the emergency treatment was, in fact, non-emergent, then the claim will be subject to no coverage or limited coverage, in accordance with policy provisions.
According to UnitedHealthcare, the company will look at several factors to evaluate whether an ED claim was emergent or non-emergent, including:
The patient's presenting problem
The intensity of the diagnostic services performed at the emergency department
Other complicating factors and external causes concerning the patient and their medical problem, such as chronic conditions
Challenging the Decision
The initial denial of healthcare coverage is never a final decision. Insured parties have the right to contest a denial and seek the benefits they believe they are owed. UnitedHealthcare's announcement specifically noted that when claims are rejected, healthcare providers can submit an attestation to challenge the decision. The insurer will send out a notice of attestation whenever an emergency department visit is deemed non-emergent. If the attestation is submitted within the required time frame, then UnitedHealthcare may cover the visit under the member's emergency care benefits. The attestation should be completed by a healthcare professional such as the treating physician, the medical director of the ED, or the nursing director of the ED. Members can also appeal a final decision on coverage.
The Dangers of Retroactive Emergency Treatment Denial
Just as with Anthem's "avoidable ER visit" policy, healthcare providers are shocked and appalled by UnitedHealthcare's announcement. When patients are told in advance that they may have to pay out of pocket for an emergency room visit if it turns out they were experiencing a false alarm, they are much more likely to skip seeking medical care. Unfortunately, in many cases it is difficult, if not impossible, for a patient to know whether a symptom indicates an emergency or something less urgent. Severe abdominal pain, for instance, might be caused by simple gas buildup, or it might mean a patient's appendix is about to burst. Patients are not medical experts and cannot be expected to guess at their own diagnoses and hope for the best.
In response to the announcement, the chief executive of the American Hospital Association (AHA) stated: "Plain and simple, this is a very misguided policy that could have a chilling effect for people going to the emergency room." The AHA sent a letter to UnitedHealthcare demanding a policy reversal and emphasizing how the coronavirus pandemic, for example, had demonstrated the dangers of discouraging patients from seeking medical care. Although UnitedHealthcare pointed to increases in unnecessary emergency room costs as the reason for the change, healthcare researchers were quick to note that emergency room visits actually fell drastically in 2020 (by as much as 27 percent). People are already avoiding emergency room visits when they believe their conditions are less severe.
In response to the backlash, UnitedHealthcare stated that it would delay the implementation of the new emergency department policy "until at least the end of the national public health emergency period" caused by the pandemic. They did not state plans to fully withdraw the planned change in policy.
Trusted Advice and Representation for Obtaining Health Insurance Benefits in California
If your health insurance claim has been unreasonably denied, or if you are dealing with other bad faith insurance issues in California, fight for the coverage you are owed with the help of the experienced and trial-ready Los Angeles insurance claim denial lawyers at Gianelli & Morris. Call for a free consultation at 213-489-1600.