State Agency Finds Anthem Blue Cross Lacking in Significant Ways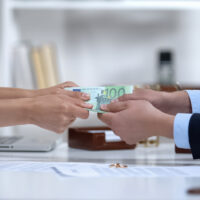 A recent California state agency review of the service provided by Anthem Blue Cross to its policyholders found the healthcare provider deficient in fourteen significant ways. When the agency gave Anthem a second chance to improve its performance score, the insurer showed improvement in only one of the fourteen deficient areas. Learn more about the report below, and contact a knowledgeable California insurance bad faith attorney for more information.
Regular review identifies serious concerns about care provided to policyholders
The California Department of Managed Health Care's Office of Plan Monitoring (DMHC) surveys every licensed health care service plan once every three years. The survey covers the plan's performance in eight different areas, including quality assurance, grievances and appeals, access and availability of services, and access to emergency services. During these surveys, the DMHC examines various materials, such as the provider's letters to its policyholders, patient case files, and grievances submitted by patients, analyzing how patients were treated, how their complaints were handled, and whether grievances were properly reviewed and resolved. The DMHC provides a preliminary report to the provider listing any deficiencies it found in how the provider issues care to its patients. It then offers the provider 45 days to either correct or develop a plan to correct any deficiencies. Based on the provider's response to the preliminary report, the DMHC decides whether these actual or proposed corrections are adequate to solve the issues.
The DMHC conducted its survey of Anthem in 2017 and provided its preliminary report to Anthem in February 2019. The DMHC's preliminary report included fourteen deficiencies, ten of which centered on how Anthem handled grievances and appeals. The DMHC's concerns surrounding patient grievances focus on both how the plan responded to grievances and how they were reviewed. In one example cited in the DMHC's report, the customer service associate tasked with responding to a patient's request didn't submit a request for the patient's files until six months after the grievance was filed, despite the urgent nature of the complaint. Other examples paint a picture of a health care provider that holds little regard for the concerns of its customers and provides an inadequate review of their concerns.
Non-clinicians tasked with reviewing adequacy of care
A substantial percentage of complaints involving questions about how care was administered and whether the clinical care provided was clinically appropriate had been classified as issues of customer service. These complaints were, as a result, reviewed by staffers with no clinical expertise. For example, one woman had filed a grievance when her neurologist told her to go off her seizure medication, suggesting that it would be good for her to have a seizure. The associate who handled this woman's complaint was not clinically trained, but requested and reviewed the woman's treatment records and concluded that the care provided was appropriate. Having an associate with no medical knowledge review these complaints and decide whether or not a patient received medically-adequate care leaves patients with no recourse to receive adequate care when a medical professional falls short.
The only deficiency that the DMHC considered to have been fixed by one of Anthem's suggested corrections? Anthem was cited for failing to allow patients to preview and edit grievances before submitting them via the plan's website, and Anthem added this feature. This is an embarrassingly-inadequate response to a set of serious concerns on the adequacy of care Anthem provides its patients.
If you've been the victim of bad faith by a California health insurance provider, contact the professional, knowledgeable, and effective Los Angeles bad faith insurance lawyers at Gianelli & Morris for a consultation on your case at 213-489-1600.