What Should I Do if My Insurance Company Rescinds My Policy?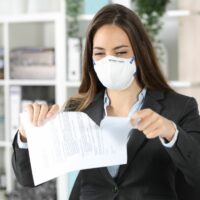 Insurance companies have a deep bag of tricks to pull from when trying to get out of paying out on a claim. In some instances, rather than deny a claim on the merits, the company may inform policyholders or beneficiaries that the policy itself has been "rescinded." Like a claim denial, a policy rescission is not set in stone once declared by an insurance company. Policyholders or beneficiaries have options to respond to the insurance company to ensure that they get the benefits they are rightfully owed. Read on below to learn about rescission notices and how to respond, and reach out to a knowledgeable Los Angeles health insurance denial attorney if you need help collecting benefits on an insurance policy claim.
What is a Rescission Notice?
A rescission is different than a claim denial or a policy termination. When an insurance company rescinds a policy, they are declaring that the policy, in effect, never existed. The policyholder will be put back into the position they were before the policy was entered, meaning any premiums paid will be refunded.
A rescission declares that the policy was invalid from the start for one reason or another. In California, insurance companies may rescind a policy if a policyholder made a false or material misrepresentation in their initial policy application or statements to the insurance provider, meaning that the insurance company "relied" on a material falsehood when it agreed to issue the policy. When an insurance company rescinds a policy, they must inform the policyholder via a rescission notice, in which they must return or offer to return the policy premiums paid.
Typically, insurance companies will claim that a policyholder lied about some material fact–for example, failure to disclose habits like smoking on a life insurance policy application or drunk driving convictions on a car insurance application. The fact must be "material," meaning important to the contract, to justify rescission.
Can Life Insurance Policies Be Rescinded?
Applying for life insurance usually requires a physical examination by a doctor or nurse, but insurance companies also rely heavily on information provided by the applicant. Applicants generally have to fill out a detailed questionnaire answering questions about their personal health and family medical history, a history of smoking, any past or current alcohol or drug use, and any hobbies or vocational activities that might make them a higher risk.
Insurance companies use this information to decide what risk classification to put the potential policyholder in, which impacts how much they'll pay for insurance and whether a policy will be issued at all. Applicants obviously want to put their best foot forward to hopefully get approved in the lowest-risk classification for the lowest premium. It's natural for applicants to answer questions in a way that puts them in the best light, but if the insurer has any reason to believe a given answer was inaccurate, incomplete or misleading, they could use that basis as a ground for rescinding a policy, even years after they issued it. They would not have approved the policy at that rate or at all, the insurance companies argue, had they known then what they know now.
States like California protect consumers from rescissions after the fact by limiting the ability of insurance companies to contest information in the application. The law gives insurance companies two years after the date of issuance to contest and rescind the policy. After that window has closed, they cannot rescind a policy even if they later find some of the information provided wasn't accurate.
The incontestability clause in a life insurance contract is limited to instances of inaccurate or misleading information. Insurers can still rescind a policy outside of the contestability period for nonpayment of premiums or for intentionally fraudulent acts such as getting another person to pose as the applicant during the physical exam or providing another person's urine sample instead of the applicant's.
What Steps Can You Take After Getting a Rescission Notice?
If your policy has been rescinded, the insurance company must send you a notice explaining the reasons for the rescission. If they failed to do so, you can and should demand a letter properly explaining the reasons for the rescission. It is also vital to get a qualified insurance denial attorney in your corner as soon as possible to start building your defense and your response.
If you have received a rescission notice, it is important to know your rights. A policy cannot be rescinded if, for example:
The alleged falsehood is trivial or immaterial (such as a mistake in an applicant's contact information, or a minor condition such as one report of high blood pressure)
The applicant did not know about a latent medical condition
The applicant did not understand the significance of an incomplete response
Why Does it Matter?
Rescissions rarely come out of the blue. Usually, they follow a customer's claim or request for coverage of an important medical procedure, prescription drug or other course of treatment. When the rescission is tied to an insurance claim, the insurer might be unlawfully rescinding your policy to avoid paying the benefits they otherwise owe. This tactic is an example of bad faith insurance, meaning you can fight back and recover money damages for the harm caused by the insurer's bad behavior.
With the help of your insurance bad faith attorney, you can write back to the insurance company and contest the rescission. Explain why any alleged non-disclosures are not present or are immaterial. Many insurance companies will reverse course as soon as the insured pushes back. If they persist with their rescission, you might need to take the matter to court to challenge the rescission.
Is Policy Rescission a Bad Faith Insurance Practice?
Insurance companies owe a duty to their shareholders to only pay on valid claims, and it is reasonable to expect them to conduct an investigation to make sure a claim is covered, that the policy is in force, and that no exclusions apply. This investigation might turn up facts that justify the rescission of the policy, and such rescission would not be in bad faith.
An insurance policy rescission can be in bad faith, however, when it is done for an improper motive, such as solely to avoid paying an otherwise valid claim. If the policyholder or beneficiary can prove the insurer's post-claim underwriting was done in bad faith, they can recover not only the policy benefits but also money damages for the costs they incurred fighting the unjust rescission, the pain and suffering and emotional distress they went through, and even punitive damages in some cases. It's worthwhile to have an experienced insurance law attorney review the facts and see whether a bad faith insurance claim exists.
Get Help Responding to a California Insurance Policy Rescission
If your insurance policy has been wrongly rescinded, or your health, life, or disability insurance claim has been unreasonably denied, fight for the coverage you are owed with the help of the dedicated and trial-ready Los Angeles insurance claim denial lawyers at Gianelli & Morris for a free consultation at 213-489-1600.