Denied Claim Due to Policy Lapse: What to Do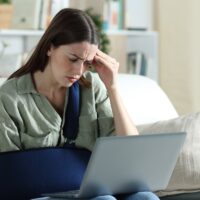 Insurance companies are more than happy to collect policy premiums for the entire life of a policyholder and then terminate the policy just when the policyholder actually needs it. This is especially true in the life insurance industry: When people get injured or elderly, they often forget to pay their bills. The insurance company watches the premiums go unpaid, terminates the policy based on unpaid premiums, and then the policyholder passes away. The life insurer then denies the life insurance claim based on policy lapse after collecting decades of premiums. If your insurance claim is unlawfully denied based on an alleged policy lapse, you have the right to fight back. Read on for tips on responding to a claim denial based on policy lapse, and if you are struggling to get your insurance claims paid, call a knowledgeable Los Angeles insurance denial lawyer for advice and assistance.
California Protections Against Intentional Policy Lapse
California law tends to be more consumer-friendly than the rest of the country. California regulations protect policyholders and beneficiaries against potentially unscrupulous acts of insurance companies by imposing additional burdens. Among other things, California law requires life insurance providers to issue several notifications in advance of a pending policy lapse. If the insurer fails to do so, then the insurer is not permitted to terminate the policy and the policy should remain in effect until its obligations are satisfied. That means that if your policy was unlawfully terminated and your life insurance claim subsequently denied, the insurer may still have an obligation to pay out on that claim.
Pursuant to California law, life insurance companies must warn policyholders and designees about any missed policy premiums within 30 days after a premium was due and left unpaid. Moreover, California life insurance policies must provide for a minimum 60-day grace period to correct any missed premium before the policy can be terminated. Insurers must notify policyholders that their policy will remain in effect during the grace period.
California life insurers must also notify applicants that they have the right to designate someone else to receive notices about any pending lapse or policy termination. In fact, policyholders have the right to add a designee, change their designee, or designate more persons to receive notice every year, and the insurer must notify policyholders every year of that right. Missed payments tend to happen when a policyholder is incapacitated, injured, or suffering from a mental illness such as dementia; having a designated person (such as a family member or friend) receive notice of potential policy lapse can prevent such a lapse from occurring unnecessarily.
What to Do After a Policy Lapse
If your claim has been denied due to an alleged policy lapse, there are a few important steps to take. First of all, you'll want to start collecting and keeping copies of any and all documents relating to your claim. Keep copies of the denial letter, billing notices, and any other communications with the insurance company. Collect evidence of payments that you or the policyholder have made. Get a copy of your insurance policy and keep it on hand. It's helpful to also collect all evidence concerning the policy claim. If it's a life insurance claim, for example, you'll want the death certificate, coroner's report, autopsy report, police report (if applicable), medical records, and other relevant documentation.
Soon after receiving your denial letter, you should contact an experienced insurance denial attorney. It's important to act quickly because waiting too long can deprive you of your right to file an appeal or a lawsuit. An insurance lawyer can walk you through your rights, review your policy and the law, and help you gather the evidence you need to prove that your claim is still valid and merits coverage. Your attorney can negotiate with your insurance provider on your behalf, represent you through any appeals, and bring a civil suit on your behalf in court. In court, you may be able to not only get the life insurance benefits you and your family paid for, but also additional damages for any bad faith conduct committed by the life insurance company.
Call a Seasoned Insurance Denial Law Firm Today for Help Collecting the Compensation You are Owed
If your life, disability, or health insurance claim was wrongfully denied, or if you have otherwise been subjected to bad faith insurance conduct, fight for the coverage you are due with the help of the experienced and effective Los Angeles insurance denial lawyers at Gianelli & Morris. Call for a free consultation at 213-489-1600.