Insurers May Not Rescind Policy Based on Ambiguous Question in Application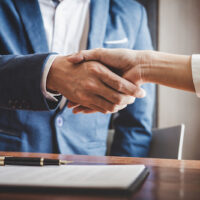 Insurance providers often look for grounds to "rescind" a policy based on alleged misstatements in the original application for coverage. It's an underhanded tactic, because insurers often wait until the policyholder has filed a claim before going back and scrutinizing the application for possible misstatements. What if a question in the application was ambiguous? What if the policyholder's answer was "false" based on how the insurance provider understands the question, but the policyholder thought they were being honest because the question was unclear or confusing? Read on to learn about rescission and the rule in California regarding ambiguous application questions. For help fighting against an unjust insurance claim denial, call a dedicated California insurance denial attorney.
What Is Policy Rescission?
One of the primary grounds for denial of insurance coverage is known as policy rescission. When the insurer seeks to rescind a policy, they are not strictly denying a specific claim; instead, the insurer is claiming that the policy itself is invalid. An insurer can rescind a policy even after a policyholder has suffered a loss and filed a claim.
Rescission is typically based on an alleged material misstatement in the original application for coverage. If the policyholder lied about something integral to the insurance coverage–a preexisting condition, for example, or their age or smoking habits–then the insurer will argue that they were deceived into executing that particular policy. An agreement based on a material misstatement or omission can be rescinded. If the misstatement was not material–for example, if the applicant simply wrote down the wrong contact information–then it's not grounds for rescission.
California Court Rules Rescission Cannot Be Based on an Ambiguous Question
Policyholders and insurance providers often fight over whether a statement in an application was actually material, or whether it was actually false. In Duarte v. Pacific Specialty Ins. Co., the Court of Appeals of California was tasked with deciding whether policy rescission could be based on a policyholder's allegedly "false" response to an ambiguous question in the application.
The insured party in Duarte had purchased a tenant-occupied property. He purchased Owners, Landlords & Tenants ("OLT") liability coverage from the defendant insurance company. He was then hit with a lawsuit by a tenant based on alleged uninhabitability. He sought defense and indemnity from the insurer based on the policy. The insurance company denied the claim and, among other arguments, asserted the defense of rescission based on an alleged misstatement in the application for coverage.
The alleged misstatements concerned the insured's answers to two questions in the application regarding whether any business was conducted on the property. First, the insured answered "no" to the question: "Has damage remained unrepaired from previous claim and/or pending claims, and/or known or potential (a) defects, (b) claim disputes, (c) property disputes, and/or (d) lawsuits?"
The court found the question was "garbled syntax" and was, at best, extremely ambiguous. The insurance provider argued the question concerned possible legal disputes, such as claims regarding habitability. According to the court, a person could reasonably read the question as asking if there is any unrepaired damage connected to prior claims, as opposed to clearly asking whether there are any known or potential disputes, claims, or lawsuits. Answering "no" was not a material misstatement, because it's a truthful answer to one reasonable interpretation of the question.
The insured also answered "no" to the question: "Is there any type of business conducted on the premises?" The court found that the insurance company's evidence was insufficient to prove that there was any business being conducted on the property. The court also found that this question, too, was ambiguous, and could be read as asking whether there was any "regular and ongoing business activity" on the premises. Even if there was some business being conducted by the tenant, there certainly was no regular and ongoing business activity. Answering "no" was thus an honest answer to a reasonable interpretation of what the question may have been asking.
The importance of the court's findings cannot be overstated: If a question in an insurance policy is ambiguous, it should not serve as grounds for policy rescission. If the policyholder's answer could be seen as accurate and truthful based on a reasonable interpretation of an ambiguous question, then they did not commit a material falsehood or misstatement, and the policy should not be rescinded.
Call a Thorough California Insurance Denial Law Firm Today for Help Protecting Your Policy and Your Loved Ones
If your life, disability, or health insurance claim was wrongfully denied, or if you have otherwise been subjected to bad faith insurance conduct, fight for the coverage you are due with the help of the diligent and veteran Los Angeles insurance denial lawyers at Gianelli & Morris. Call for a free consultation at 213-489-1600.