What is a Material Misrepresentation by an Insurance Company?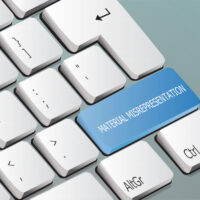 We've all heard the term "insurance fraud." Insurance fraud happens when you lie to an insurance company to collect undeserved benefits, such as by burning down your own property and claiming someone else did it so that you can collect a payout. Well, insurance companies are required by law and contract to be just as honest with you as you are with them. When you file a claim for coverage with your health insurance provider, they are bound by the terms of your contract and the facts forming the basis of your claim. But what if you were misled by an agent when you signed the contract in the first place? Or what if the company makes a false statement about what your policy says now? A seasoned and effective Los Angeles insurance denial lawyer can help if your insurance provider has made a material misrepresentation about your insurance policy and denies you the coverage that you are rightfully owed.
Misrepresentations by agents and adjusters
When you file a claim with your health insurance provider, they may investigate your claim to decide if you are owed coverage and determine the appropriate amount of that coverage. They will base their determination on the facts and circumstances surrounding your claim, as well as the specific terms in your policy. 
Insurance policies are complicated and filled with legal and medical jargon. Insurance agents know this, as do the legislators who write our insurance laws. We rely on insurance agents to explain some of the more complicated aspects of the policies and to clarify what is covered when language is opaque or unclear. Occasionally, insurance agents will seek to trick prospective clients into signing a policy by misrepresenting what the policy actually covers. The agent may improperly represent the policy as including certain terms, provisions, or requirements for coverage that are not actually outlined in the policy. 
The agent may do so intentionally or simply negligently, but the outcome is the same. Down the line, when you file for coverage based on the representations made by the agent who got you to sign the contract, the company denies your claim and points to the language in the contract. California law, however, requires that insurance companies do not deny coverage based on an agent's negligent or intentional misrepresentation of a policy's coverage provisions. If you were induced to sign a policy based on false statements made by an insurance agent and your insurer later denies a claim that, had the statements been true, would have been covered, then you may have a claim for insurance bad faith. You are entitled to coverage. 
Misrepresentations can also happen after your claim has been filed. Insurance companies look for any chance to deny you coverage or limit your payment. Claims adjusters may state that your policy does not cover your damages when, under the actual terms of the policy, it absolutely does. They may use that misrepresentation to trick you into accepting a lowball settlement now rather than risking a legal dispute. Do not let them push you around; claims adjusters are not allowed to make misrepresentations in evaluating coverage. You have a right to payment based on the terms in your contract and pursuant to the representations made by insurance company employees.
Our California Insurance Bad Faith Lawyers will Go to Bat for You
If you've been the victim of a wrongful claim denial or bad faith rejection by a California health insurance provider, get help you can trust from the dedicated and professional Los Angeles insurance bad faith lawyers at Gianelli & Morris by contacting them for a free consultation at 213-489-1600.