The Importance of the Reinstatement Period After Policy Lapse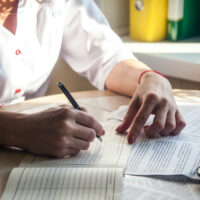 Reinstatement gets you the policy you originally applied for without having to go through the entire application process once again. You'll need to submit a questionnaire regarding the current state of your health, and if your health remains more or less the same, you'll get back the rate you were paying before the lapse. This is especially helpful if you are a decade or more older than you were when you originally applied for life insurance. Your premium will likely be based on your age at the time of your original application rather than your age at your time of reinstatement.
If you have had changes to your health, you should report those in your reinstatement application, when asked. Changes to your health might cause the insurer to change your rate or deny reinstatement. However, for the reasons explained below, it's important to be honest.
Critically, however, one of the biggest benefits of reinstatement over applying for a new policy is that reinstatement might not require a new medical examination. At a minimum, you will need to fill out a questionnaire concerning your health, but you might not need to see a physician for an updated health check. It's up to the insurance company whether they'll require a medical exam for reinstatement.
There are limited drawbacks to reinstatement. Namely, you'll owe any missed premiums plus interest. Paying two months' worth of premiums plus an average 6% interest is a small price to pay to get back your original policy without having to submit to a new medical examination and a recalculation of your premiums based on your current (older) age and condition. Of course, if you're in better condition than you were when you originally applied, or if your financial circumstances have changed and you'd prefer different levels of coverage, you can apply for a new policy. Talk to a seasoned California life insurance lawyer to discuss your best options for maintaining coverage.
Reinstatement Restarts the Contestability Period
It's important to note that reinstatement will not put you in exactly the same position you were in prior to the policy lapse. Time-restricted conditions of your policy may restart upon reinstatement as if it were a newly-generated policy. Of particular note is the two-year contestability period.
Life insurance companies can "rescind," or retroactively void and cancel, a policy that included "material misrepresentations" in the policy application. They can even rescind a policy after the death of the insured party and use rescission as grounds to deny claims to beneficiaries. California law provides that insurers can only rescind a policy within the first two years (the "contestability period") after the policy is issued. After that, they must pay out on an otherwise valid claim even if they identify falsehoods in your application.
However, unless your policy includes an incontestability clause, the contestability period will restart upon reinstatement of your policy. If your application for reinstatement includes any misstatements, your policy is at risk of rescission and your beneficiaries could be denied coverage. Even though you might not have to undergo a medical exam, you should not deliberately lie or withhold critical information about which you are already aware concerning your health.
Other time-limited provisions, such as a suicide clause (no coverage if the insured commits suicide within the first two years of the policy), might also restart upon reinstatement. Talk to your insurance denial lawyer to ensure you understand what provisions may apply and when upon your policy reinstatement.
Call a Zealous Insurance Denial Attorney at Gianelli & Morris for Help Reinstating a Lapsed Life Insurance Policy
If your life insurance has lapsed, or if your benefits have been denied due to policy lapse, contact the dedicated and thorough Los Angeles insurance denial lawyers Gianelli & Morris for a no-cost evaluation of your claim at 213-489-1600.