Top Signs Your Insurance Denial was in Bad Faith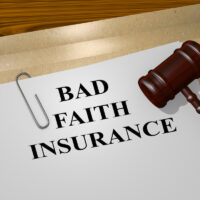 Insurance companies have a duty to act in "good faith" when responding to policyholder claims. However, we have all heard stories of insurance companies denying claims that seem otherwise legitimate. Insurance companies are private businesses, and first and foremost they care about their profits. Sometimes insurers treat their policyholders less than fairly to protect their own profit margins. Continue reading for some of the signs to look out for to determine if your insurance company is acting in bad faith, and reach out to a skilled Southern California insurance bad faith lawyer with any questions.
Bad communication
Communication with your insurer should be simple and straightforward, like talking to your doctor. If you file a claim with your insurer or provide other requested documentation as part of a policy or claim, and days or weeks go by without any response, your insurer may be purposefully ignoring you. Insurers know that timing is crucial, especially right after an accident, and unwarranted delays can make it more difficult for you to prove the validity or value of your claim. At worst, the company could be avoiding you to get out of investigating and paying out on a proper claim.
Denying a claim without proper cause or a reasonable investigation
Every insurance policy comes with an implied duty of good faith and fair dealing. This means that the company has the duty to properly investigate your claim before deciding how to respond, and if they do deny your claim, they have to tell you their reasons why. Some companies may simply deny your claim without showing that they did an investigation or providing reason why, in the hopes that you will just drop the claim.
Delaying payment on a covered claim
Once you have established a proper claim, the company should begin the process of reaching a settlement. Bad-faith companies may try to delay payment with tactics such as demanding unnecessary and excessive evidence or documentation, or delaying communication.
When the insurance company denies your claim, they may back up their decision with confusing and highly technical language from your policy. As a policyholder, it can be hard to tell whether you have a good faith coverage dispute with your carrier, or if they are hiding behind technical language solely to avoid paying a costly claim. In either case, an experienced California insurance lawyer will fight to see you get the benefits of the policy you signed up and paid for.
If you believe your insurance company has inappropriately denied you coverage, treated you unfairly, or generally acted in bad faith, call the experienced and compassionate Los Angeles insurance attorneys at Gianelli & Morris at (213) 798-4860.