California Supreme Court Slams the Door Shut on Negligence Lawsuits Against Insurance Companies Offering "Medicare Supplement" Policies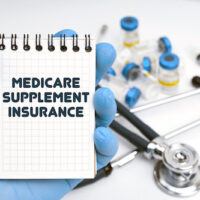 On July 13th, the California Supreme Court handed down a landmark ruling with significant implications for Medicare Advantage enrollees across the state. In the case of Quishenberry v. UnitedHealthcare, Inc., the court ruled that individuals insured under a Medicare Advantage (MA) plan are limited to federal remedies when pursuing claims against MA organizations. This means that state tort remedies like compensatory and punitive damages aren't available for harm caused by insurance company misconduct or bad faith practices when the insurer is Medicare or an insurance company offering the Medicare supplement. In short, this ruling is distressing news for Medicare recipients who have been disserved by their insurance company.
Read on to learn more about this case and its impact on Medicare enrollees in California. If you have a plan outside of Medicare or Medicare Advantage and feel your claim for service has been unfairly denied, call Gianelli & Morris for a free case evaluation from a dedicated and experienced Los Angeles insurance bad faith law firm.
Quishenberry v. UnitedHealthcare: The Impact of Federal Preemption on California Medicare Advantage Enrollees
The plaintiff in this case was the son of a late Medicare enrollee who passed away following his discharge from a skilled nursing care facility. The plaintiff sued the HMO plan and healthcare services administrator of his late father, alleging they had failed to deliver the proper skilled nursing benefits promised under the Medicare plan. The plaintiff sought recompense for negligence, wrongful death, and elder abuse, all under California state law.
In response, the defendants invoked the legal doctrine of preemption, arguing that federal Medicare statutes preempted the plaintiff's state law claims. Preemption is a principle established by the Supremacy Clause of the United States Constitution. When a conflict arises between federal and state law, a controlling federal law will displace an applicable state law.
In this particular case, the defendants asserted that the Medicare Act preempted the plaintiff's state law claims against the Medicare Advantage organization. The California Supreme Court ultimately agreed with this argument.
Medicare Part C, also known as Medicare Advantage, allows beneficiaries to sign up for a privately administered healthcare plan that provides all Part A and B benefits and potentially more. The government pays a monthly fee to the plan's administrator, who assumes the risks associated with insuring the beneficiary. The court ruled that Medicare Part C expressly preempts state law claims against MA organizations, thus superseding the plaintiff's state law remedies.
According to the court, this preemption clause in Part C was included by Congress to ensure "national uniformity" in Medicare administration. It was intended to prevent subjecting MA organizations to differing rules in each jurisdiction, a scenario that could drive up costs and stifle innovation.
Furthermore, the Court stated that the plaintiff's claims would still be impliedly preempted by the Medicare Act even without express preemption language. The plaintiff sought to enforce standards set by Medicare Part C, but without going through the mandated review process. The Court declared that the plaintiff could not bypass the administrative process and turn to state courts to replace federal decision-making.
Practically speaking, this ruling restricts Medicare enrollees from pursuing state-law tort claims against entities providing Medicare benefits. While states like California offer additional protections for patients and insurance policyholders not available under federal law, this ruling seemingly restricts these additional recourses. Examples of these protections include compensatory damages to offset economic and non-economic harm caused by insurance company negligence and punitive damages in cases of bad faith insurance or negligence when the insurer acted maliciously.
The ruling in Quishenberry v. UnitedHealthcare represents a significant precedent, limiting the scope of potential recourse for policyholders in California. As a firm dedicated to protecting policyholders who have been victims of unfair claim denials and bad faith insurance practices, Gianelli & Morris will continue to monitor the implications of this landmark ruling closely. For now, though, it seems pretty clear that Medicare Advantage customers are at a severe disadvantage compared to policyholders outside of Medicare when it comes to holding their insurer accountable for failure to provide benefits as due and process claims in good faith.