Gianelli & Morris Takes Blue Shield to Task for Wrongful Blanket Denials of Coflex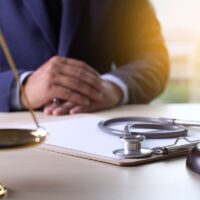 As we've recently discussed, health insurance companies often try to impose blanket rules for denying entire categories of claims, even when those rules fly in the face of modern medical science. Sometimes, they state that treatments are not medically "necessary" just because similar treatments are also used for cosmetic purposes. In other instances, they wrongfully refuse coverage for treatments they deem to be "investigational" or "experimental," even when there is wide consensus in the medical community that a certain treatment is the best for a given ailment. Lawyers at Gianelli & Morris are taking Blue Shield of California to task on behalf of all affected Californians for their blanket rejection of coverage for an established treatment for lumbar spinal stenosis. If you have lumbar spinal stenosis and have been denied coverage by Blue Shield or another health insurance provider, or if you have otherwise been denied benefits by a health insurer in California, call a seasoned and zealous Los Angeles insurance denial and bad faith attorney.
Blue Shield Denies Established Treatment for Lumbar Spinal Stenosis
Lumbar spinal stenosis is a narrowing of the spinal canal that compresses the nerves leading through the lower back and into the legs. This debilitating and degenerative disease can lead to severe pain and cramping, especially when standing for long periods or walking, as well as numbness and muscle weakness. Symptoms can worsen over time, causing functional limitations and even incontinence in extreme cases. The condition affects 1.6 million patients annually.
Coflex is a stabilization device inserted into the spine to keep the spine open and stable. While decompression alone is a treatment for spinal stenosis, decompression with Coflex added on for treatment is almost twice as sustainable. Coflex is considered a Class III medical device by the FDA, meaning it is a device designed to sustain or support life and/or to prevent unreasonable risk of illness or injury. Coflex received pre-market approval (PMA) from the FDA in 2012 and has been widely used by spinal surgeons across the U.S. to successfully treat spinal stenosis. It has been recommended by several medical societies and agencies.
Blue Shield has a blanket policy that deems the use of any interlaminar device (devices implanted into the spine) to be "investigational," whether used standalone or alongside decompression. "Investigational" means it is not accepted by established medical standards as being safe and effective for use or has not been approved by regulatory agencies. Investigational treatments are not covered by Blue Shield. Despite the growing medical consensus in favor of interlaminar device usage, FDA pre-approval for Coflex, and the fact that Coflex has been used across the country for spinal stenosis patients for nearly a decade, any claims for coverage involving Coflex are rejected on that "investigational" basis.
Our client has severe lumbar spinal stenosis. She and her physician agreed that Coflex would be an effective, necessary treatment for her debilitating condition. Her claim was denied solely because Blue Shield misreads its own policy definition of "investigational" to include an entire category of devices that have FDA pre-approval and a medical consensus supporting them.
Gianelli & Morris refuses to let that decision stand. On behalf of our client and all other Blue Shield of California policyholders, we filed a class-action lawsuit demanding that Blue Shield cover Coflex as a treatment for spinal stenosis. Our lawsuit further alleges that Blue Shield deliberately breached its contract in rejecting Coflex claims and should be ordered to pay damages for its bad faith, including damages for loss of benefits and other harm caused by their actions.
Health Insurance Refusing to Pay Your Claim? Call Gianelli & Morris.
If you are a California policyholder or beneficiary wrongfully denied coverage for medical treatment, or if you have faced bad faith insurance company conduct, call the insurance law attorneys Gianelli & Morris for a free consultation regarding your claim.