Bad Faith Rescission of a Health Insurance Policy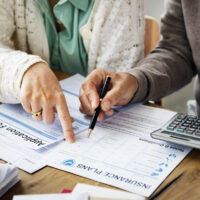 For the majority of the time that you maintain a health insurance policy, you are paying—or your employer is paying on your behalf—far more in premiums than you're receiving in benefits. You pay these premiums so that you can rest assured that you'll have coverage when you need it, such as when you're injured in an accident or become sick. When an insurance company decides to rescind the policy you've paid for and relied on only after you file a claim, this is called postclaims underwriting. If you've had your insurance policy rescinded on this basis, you may have a bad faith claim against your insurer. Learn about bad faith insurance policy rescission below, and speak with a California bad faith insurance lawyer for assistance.
What Is Postclaims Underwriting, and How Does It Work?
Postclaims underwriting is an age-old attempt by insurance companies to avoid paying costly claims by rescinding the policy, often on the basis that the policyholder lied when they applied for the policy. In the context of health insurance, insurers will claim that a policyholder left out a key fact from their medical history when applying for their policy. Instead of investigating the application at the time that the policy was issued, the insurer often never bothers to look for a misstatement until the policyholder seeks to use their policy's benefits.
When insurers are looking for ways to avoid paying claims, it isn't hard for them to allegedly find a misstatement on an application for insurance coverage, even when applicants firmly believed they were telling the truth at the time they completed their application. It is for this reason that California has made postclaims underwriting illegal in many instances, and even when it is legal, California courts place firm limits on the practice. For instance, California Insurance Code § 10384 states that disability insurance providers that cover "hospital, medical, or surgical expenses" are barred from engaging in postclaims underwriting. Insurers may only rescind an insurance policy when they can prove that the insured lied about or hid information when seeking insurance, and only by acting promptly after discovering facts that would justify rescission. When an insurer rescinds a policy, the policyholder is entitled to notice and a refund of all premiums paid. Should an insurer fail to comply with these requirements, the rescission may be found invalid.
Insurers are also barred from rescinding a policy on the basis of statements made in an application when they have not provided a copy of the application to the policyholder. In the case of Ticconi v. Blue Shield of California, our attorneys pursued a claim for damages on behalf of thousands of Blue Shield customers who had their health insurance policies rescinded on the basis of misstatements in their applications only after they had filed claims. Blue Shield had failed to provide a copy of the policyholders' applications. When Blue Shield claimed that they were justified in rescinding their customers' policies, the Court of Appeals' opinion noted that an insurer "may not invoke the defense of misrepresentations in or omissions from the unattached and unendorsed application." The Court of Appeals ruled that despite Blue Shield's attempt to dismiss the case, our class action claim based on California's Unfair Competition Law could move forward toward trial.
Call the Leading California Insurance Attorneys If Your Policy Was Rescinded in Bad Faith
If you've been the victim of rescission of your insurance policy, find out whether you have a claim for bad faith under California law by contacting the seasoned Los Angeles bad faith insurance attorneys at Gianelli & Morris for a free consultation at 213-489-1600.