Accidental Death Insurance Denial: What to Do if Your Claim Was Denied?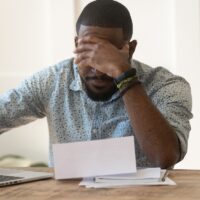 Accidental death and dismemberment insurance is a helpful supplement to a standard life insurance policy. Like other insurance claims, however, accidental death claims are often subject to denials for improper reasons and unjustifiable interpretations of the facts and the policies. Below, we discuss accidental death claims and what to do if your claim was denied. If your accidental death claim or life insurance claim was wrongfully denied, call a dedicated Los Angeles insurance denial attorney for advice and assistance.
What is Accidental Death Insurance?
Accidental death and dismemberment (AD&D) insurance is a form of insurance that pays out when the insured party is killed in an accident. It pays additional benefits when the insured party dies under certain circumstances, such as a car accident, natural disaster, homicide, drowning, or accidents involving heavy equipment. Accidental death insurance typically excludes death from natural causes such as cancer, heart attacks, or other illnesses. Because of the significant coverage limitations, AD&D insurance is useful to supplement, but not replace, life insurance.
Why Was Your Claim Denied?
If your accidental death claim was denied, you have the right to push back. Whether you can simply supplement your claim with additional proof, or whether you'll need to go through a full appeal and/or external claim, may depend upon the reason why your claim was denied. Some of the most common reasons for denial of an accidental death claim include:
Lack of supporting evidence. To recover under your insurance policy, you'll need to prove that the death was caused by an accident. Claims are often denied because of insufficient evidence. If your insurer claims that you provided insufficient evidence, you might be able to remedy the claim simply by providing more evidence–police reports, medical reports, autopsy reports, etc. With sufficient evidence, the insurer may reconsider your claim even without going through a full appeal.
Delay between accident and death. Accidental death policies often set a time limit for the underlying accident to cause the death, typically 365 days. If an insured party gets in a car accident and does not succumb to their injuries for more than a year, the claim might not be covered. A careful review of the policy language and the specific circumstances of the claim may reveal that the insurer's grounds for denial are unsupported.
Failure to pay premiums. Insurers are happy to let policies lapse when the policyholder fails to pay their monthly premiums if it gets them out of paying a claim. However, there is usually a grace period after a missed payment before the policy can be allowed to lapse. Moreover, the insurer has a duty to inform the parties about the missed premiums and that policy lapse is imminent. If they failed to properly notify the parties about the missed payments, then they may not have been allowed to cancel the policy. California law is especially strict and favorable to consumers when it comes to lapses or termination for nonpayment of premiums.
Excluded cause of death. Accidental death insurance covers only specific causes of death; namely, accidents. If the insured party died from cancer, the accidental death policy will not apply. There are often other specific exclusions, such as if the death occurred while committing a crime, while serving in the armed forces, due to self-inflicted wounds, or due to medical malpractice. However, just because the insurer claims that the cause of death was excluded from coverage does not make it so. You have the right to appeal the denial and challenge a coverage rejection in court. Gianelli & Morris has helped our clients do just that, as discussed below.
You Don't Have to Take a Claim Denial at Face Value
Many insurance providers try to deny accidental death insurance claims for any number of reasons, whether legitimate or otherwise. You have the right to appeal a claim denial and, if the insurance company persists in rejecting your claim, you can seek compensation in civil court. Gianelli & Morris recently filed a lawsuit against Standard Insurance Co. based on their wrongful denial of an accidental death claim, as well as general bad faith conduct.
In that case, the insured party had passed away due to accidental drowning. Because the autopsy reported that a cardiac arrhythmia "may have" contributed to the accidental death, Standard claimed that the claim was excluded under a policy provision excluding heart attack and stroke. Their reasoning is contradicted by California law and California court decisions, including opinions from the California Supreme Court explicitly holding that "the presence of a preexisting disease or infirmity will not relieve the insurer from liability if the accident is the proximate cause of death," regardless of whether the preexisting condition may have contributed to the accident or cause of death.
The case illustrates the fact that just because an insurance provider denies your claim does not mean your claim is not covered. A seasoned claim denial attorney can help you get the coverage you are owed.
Call Today for Help After a California Accidental Death Insurance Claim Denial
If your accidental death or life insurance claim has been unreasonably denied, or if you are dealing with other bad faith insurance issues in California, fight for the coverage you are owed with the help of the seasoned and dedicated Los Angeles insurance claim denial lawyers at Gianelli & Morris for a free consultation at 213-489-1600.